South Shore buildings
No, I don't have any old images of South Shore shelters or other structures but I found I did have a few of my recentish snapshots scanned into my computer. I may have other photos but these are all I've filed and scanned. To see the sharper images, click on these blurry thumbnails.
Ogden Dunes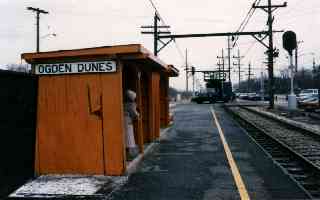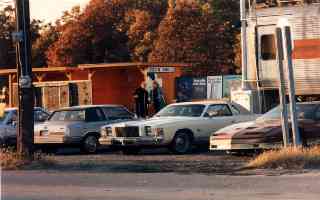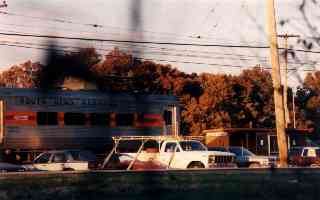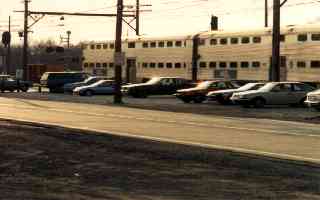 1989 - Mom looking east at line-car leaving track at Hillcrest Road, I guess to get out of way of approaching train, which Mom is waiting to ride to the Loop. (In looking for the snapshot itself, I found that we were on our way to spend Thanksgiving at my sister's Massachusetts apartment, where my other sister met us, too.)

1988 - Young hipsters awaiting train. telephoto from south side of US 12 - There was just one shelter for many years. I don't recall when the South Shore added the 2nd one. I think it was one which had just been removed from another stop after that one had been closed.

1988 - Looking northeast through a telephoto lens, which is why the distance in compressed. But why does it look like there's also a track right in front of us? Hmm, I'll have to think on this one some more.

1998 - I never rode any of the Metra cars during their South Shore service but I did dash off this snapshot looking northwest across US 12 & Hillcrest Road. The stop is now east of Hillcrest (and is stretched out).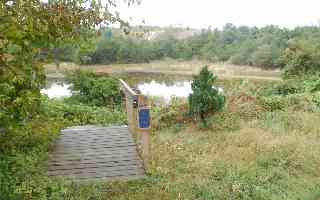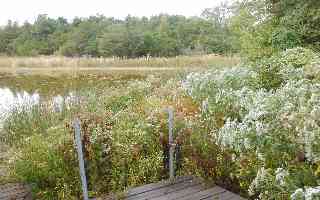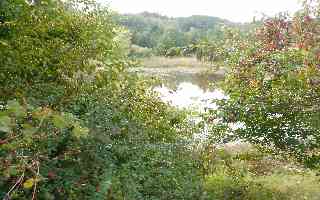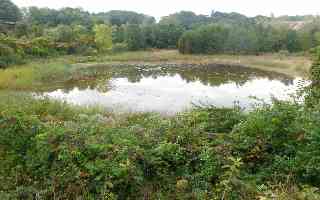 2011 - These 4 snapshots are of Pollywog Pond, on the south side of the west end of Shore Drive. After the two Ogden Dunes orange South Shore shelters were decommissioned by NICTD, one of them was repainted tan (with dark brown? trim) and placed on the shore of this pond (I think around the northeast corner?) Then it disappeared. I have never been able to get an answer to what happened to it (or even to find anyone on HSOD's board who realizes it is no longer there). It's been missing so long now that I rather doubt that it's simply being worked on. I should have some snapshots of the shelter itself at Pollywog Pond but I guess it'll be awhile before I'm organized enough to put my hands on that. But, as you weren't thinking in terms of featuring images of South Shore stop buildings moved & reused, I guess that doesn't matter to this project anyway.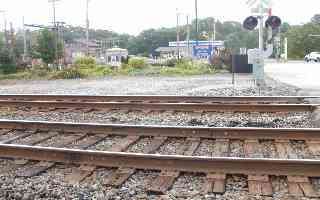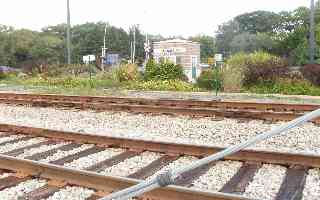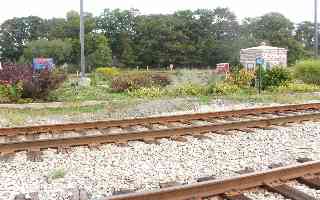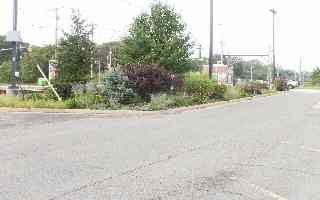 2011 - These 4 snapshots are of the South Shore's equipment shed I mentioned that was naturally grey. Some Ogden Dunes women wished to make it prettier so they repainted it as a dwarf "depot" and the Garden Club beautified the ground around it. You'll note that NICTD's sign for the parking lot entrance is no more accurately labeled however, as this stop is not, and never has been, a "station". I know I took several pix of this beautification project after it was first done but, as you aren't gonna feature them in your book, I just caught several more this morning for your amusement. In the 1st shot, the old Wickliffe power substation also shows, across US 12. How old is that? I don't know. Does that or did that serve the South Shore or is that a substation for NIPSCO's electricity to the town itself? I don't know. (In particular I've never understood why the building was built across US 12.) Would you be interested in that boxy brick substation even if it does serve the South Shore? I don't know I'll be able to scrounge up an older image of it (I don't recall seeing one but Tom Tittle is an electrical engineer who is also a local history buff so he'd probably know.) but a new one showing the building a lot clearer than this certainly could be captured.

Dune Acres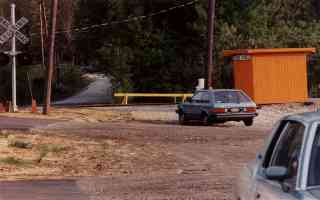 1987 - The shelter which used to be at the entrance road to Dune Acres, before NICTD closed their stop. The car in the far background is eastbound on US 12. telephoto

not at actual Dune Park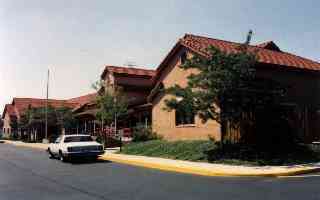 1989 - The new N.I.C.T.D. headquarters building, which our politicians spent a few million bucks on so they'd have a nice place to hold their meetings in. They like to call it their "Dune Park" "station" but it's not anywhere near Dune Park (The actual village of Dune Park is half a dozen miles west.) and it has never been used as a train station. It simply sits next to where the trains stop. There are no customer services and never have been. N.I.C.T.D. had a contest to choose a name for the new stop (to replace the nearby former Tremont stop) but the winning entry wasn't even "Dune Park". The contestant offered "Dunes Park", as it's at the entrance to the Dunes Park, but N.I.C.T.D. bizarrely twisted that to Dune Park, perhaps having once heard of the historic place and thinking it made sense to therefore use the name of the village 6 miles away. It's claimed that the current name makes sense, as it serves the Indiana Dunes National Lakeshore and the Indiana Dunes State Park, but then why didn't they call it "Dunes Park"? Nobody going to either the national park or the state park thinks they're heading to the "Dune" Park, and claiming otherwise is hellishly dishonest!

Michigan City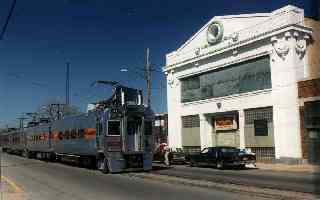 1994 - Michigan City's former South Shore station building. I've heard it's now being used by a private business but I haven't thought to take a look at that when I'm over there sometime. If you notice the narrow dark bar at the right edge of the larger (clicked on) version of this image--that was from the camera itself. One of my Minolta 35mm bodies had developed that little problem in the latter days of my using that. All my snapshots (the negatives) got an underexposed band from the shutter wearing out a bit. That can be corrected for. I'm simply explaining that that is not just a bad printing job.

Chesterton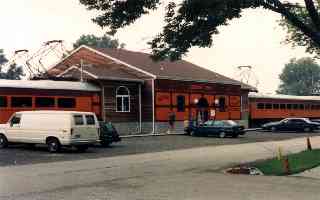 1989 - This isn't a real South Shore building, historic or otherwise. (If I'm recalling this snapshot right,) it's a private business south in Chesterton(?) which simply has made use of a couple former South Shore cars after they were decomissioned a few years ago.

Heston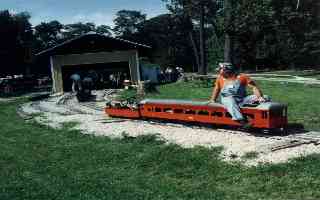 1990 - Omigosh, a South Shore car after being struck by lightning and passing through the nuclear power plant? OK, I guess it's actually a shot from one of the train shows over at the steam club in Heston(?) The building isn't even all that interesting or historic. :(

This page is at http://calpartner.tripod.com/ssh/index.html.

Updated 25 September, 2011.

Posted for Cynthia O'Gorek's amusement.